Singles' Day is the world's largest 24-hour shopping circus. Indeed, it is not an exaggeration to call it the Super Bowl of e-commerce.
And let's be honest – e-commerce is all about money. But what is the biggest money maker? It all comes down to playing with emotions.
The Thrill of Buying
Christie's is an iconic British auction house founded by the eighteenth-century celebrity, James Christie. It's now part of Groupe Artémis, the holding company owned by François-Henri Pinault, the lucky guy married to the talented actress Salma Hayek.
In November 2017, the Salvator Mundi, one of the few known works painted by Leonardo da Vinci, was sold at Christie's in New York for more than $450 million. At the time, it was the highest price ever paid for a single painting at a public auction.
Just imagine the scale of emotions when that Leonardo went under the hammer! Singles' Day gives you exactly the same kind of thrill. The best part? Unlike Christie's auctions, it's available to EVERY SINGLE PERSON.
But How Did It All Start?
In many countries, November 11th is celebrated as the anniversary of the ending of World War I. However, in China the date is known as Singles' Day (also referred to as "Double 11").
But it's more than just the power of superstition – 11.11, i.e. four 'ones' in a date. Actual "singleness" plays an important role, too.
In the 1990s, Chinese students started buying themselves presents to celebrate being single, which – over time – overshadowed Valentine's Day.
There's nothing wrong with the romantic abilities of the Chinese, instead it's about demographics.
There are 1.4 billion people in China, of which there are 38 million more men than women. It's estimated that by 2030 more than a quarter of Chinese men in their late 30s will have never married. Jack Ma, the founder of Alibaba (the Chinese equivalent of Amazon) spotted a commercial opportunity in that inequality.
Editor's note:
Jack Ma's story is perfect material for a 'from-rags-to-riches' Hollywood story. Born and raised in a family of traditional Chinese musicians from Hangzhou, he is currently the richest man in China.
He started off his professional career as an English teacher earning $12/month. During an interview, Ma admitted that he was the only person to be rejected for a job at KFC when the chain entered China. Many years later, his company Alibaba is worth more than Facebook, and sells more goods than Amazon and eBay combined.
Alibaba's 2019 Singles' Day sales officially outgrew those of Black Friday and Cyber Monday combined – two-fold! To further demonstrate the scale of the event, Prime Day sales in 2017 amounted to $1 billion, while Singles' Day generated a staggering $25.3 billion.
In 2019, more than half a billion people (a bit more than the population of the USA and Mexico combined) set another world record by spending $38 billion on Single's Day (approx. 23% more than in 2018). The first billion was generated within a minute of the event's launch, with the first $13 billion reached within an hour.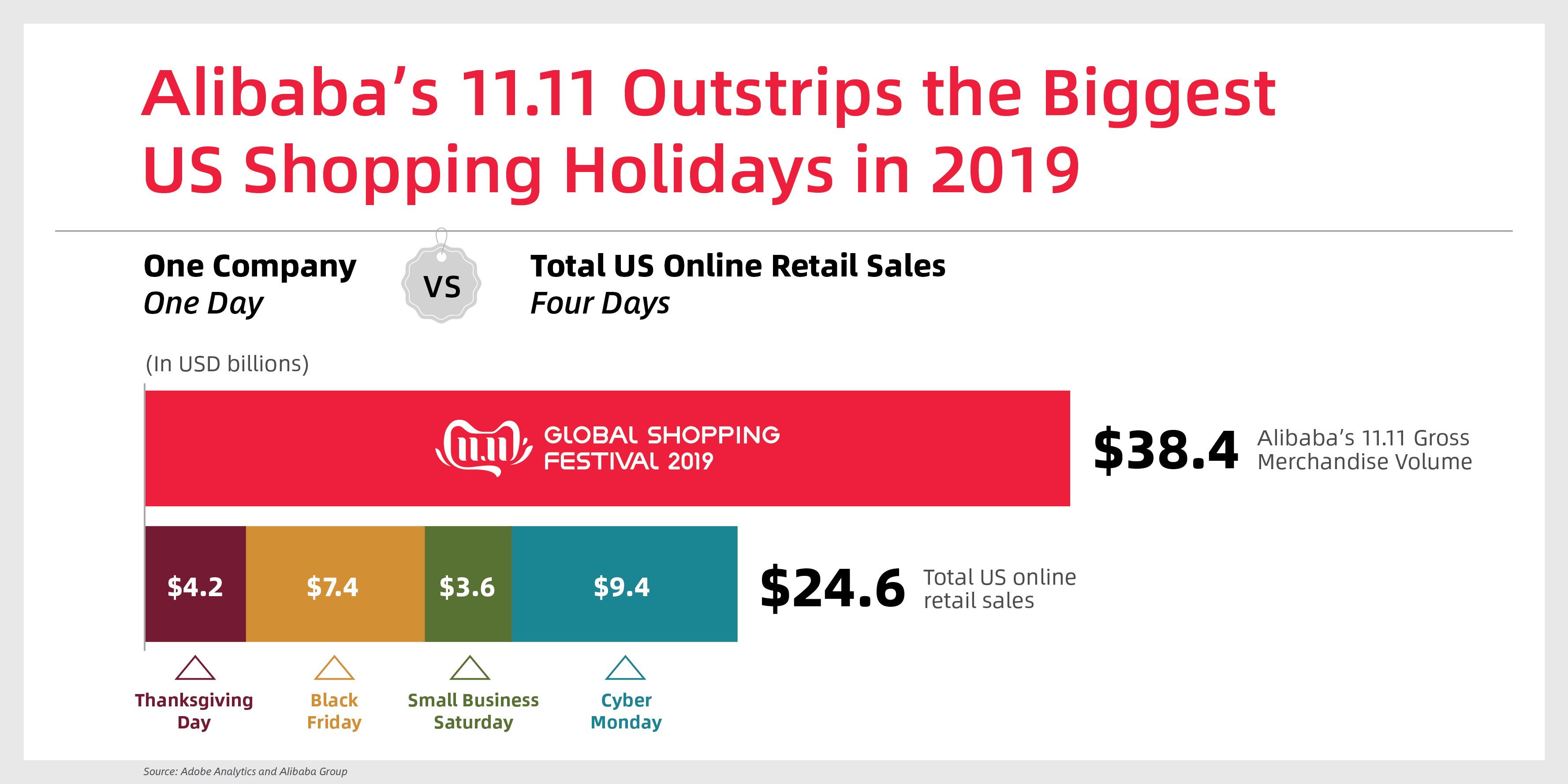 So, What Drives This Phenomenon?
Human emotions, of course!
Given that it's an e-commerce event, promotional activities and massive discounts could easily be limited to the digital sphere only. But not when a man like Jack Ma gets involved!
The first Singles' Day edition took place in 2009, when Alibaba used it as a chance to boost sales between China's Golden Week national holiday in October and the Christmas season. Yet, as sales grew year on year, it became a tradition that a huge spectacle is organized every November 11th.
Editor's note:
Scroll down to see examples of some of the most successful Singles' Day campaigns, including Xiaomi and Estee Lauder.
In 2019, a 4 hour-long countdown party took place, which included Taylor Swift singing on a moving stage. Just imagine – the LED lights alone needed to be operated by 300 people!
But the new sales record can't be attributed to her presence only.
Swift also gave a full-blown performance on Amazon Prime Day 2019, just a few months before 11.11., and (surprise, surprise) it 'only' generated $7 billion worth of sales. Among the many stars who have also appeared on Alibaba's stage during previous editions of Singles' Day are Nicole Kidman and Daniel Craig.
Is Single's Day For Chinese Brands Only?
Absolutely not. It can also serve as a great opportunity for Western brands to increase sales.
In a pre-Singles' Day survey, 78% of Chinese consumers said they were going to consider buying American brands, followed by 72% for European and Australian goods.
This means one thing – it's an incredible chance for Western companies to increase their market share in China.
Putting Consumers In Awe
This year's Singles' Day revolved around performances put on by brands to promote their products. It is hard to say if the 'Mother of Dragons' would have been proud, but Johnnie Walker promoted itself in the form of a Game of Thrones-themed dance show.
On the other end of the FMCG spectrum, the sanitary pad brand Whisper turned to post-human trends by promoting itself through the performance of a popular Chinese virtual singer, Luo Tianyi. Let's make it clear – what we're talking about here is an actual hologram!
In the words of Jack Ma, 'this creates a feeling of total frenzy, a level of excitement in which the feeling of a truly special moment and the urge to buy something is much stronger that without it'.
A funny thing is that Jack Ma considers 2019 Singles' Day a financial disappointment. He blamed it on the hot weather and the fact that 11.11 was a Monday (so, a working day).
He said that he had hoped that the government would have given people at least half a day off for Singles' Day events. This all speaks volumes about the scale of ambition for growth.
In fact, Jack Ma is shooting for the stars. He openly admits that his goal for 2026 is that one out of every four people in the world will be shopping through his online platforms, Tmall and Taobao.
That's Retailtainment!
But let's return to entertainment and human emotions. It's importatnt to know that China is a country where live-streaming commerce is really gaining momentum, and where retail smoothly blends with entertainment. There's even a special term for it: retailtainment.
In fact, the line between content and commerce has blurred. Users from countries dominated by Amazon may struggle to imagine a world where search, social, content, and transaction happen within a single, perfectly-orchestrated ecosystem.
The strategy of Singles' Day is based on a perfect combination of mobile-first philosophy (during Singles' Day 90% of sales came from smartphones), e-commerce digital innovation, a culture of interactive entertainment, and a deep engagement in brand experience.
For example: an influencer launches a live stream during which he or she demonstrates a product and answers the audience's questions – just like on Instagram live-streaming.
The key difference is that retailtainment allows consumers to make product purchases while consuming their entertainment or educational content. And we literally mean actual purchases – checkout and payment included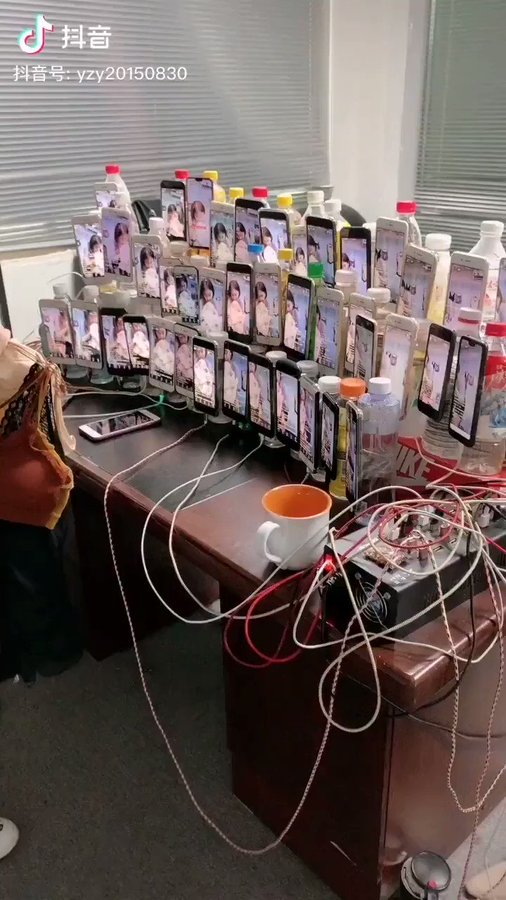 Editor's note:
You'll find more examples of live-stream Singles' Day campaigns below.
Entertaining and emotionally-appealing content triggers the release of dopamine, the excitement hormone. As a result, people buy more – and more eagerly – and can't help but feel that such a promotion will never happen again.
What Does This Mean For Customers?
The discovery-through-entertainment experience solves the key pain point for e-commerce sites: urging customers to find new products.
Traditional e-commerce is good when you know what you want, but not so great when you don't. 'Window shopping' never really existed in this space. Now, the second you see something appealing you can also buy it – and that's magic for consumers and retailers alike.
What Are The Implications For Brands?
There are many key factors behind Alibaba's effectiveness. Surely, one of them is simply keeping consumers on their site longer, instead of just focusing on creating a frictionless experience.
The rise of interactive entertainment via live-streaming and gamification opens many new doors. Customers (especially young ones) can dive deeper into the brand experience, and connect with each other during the process of searching for and testing products.
Microcelebrities also play a great role, which means your business needs more than 'just' Kim Kardashian's endorsement. Nowadays, it's also about TEDx speakers and Instagram rising stars, while at the same time also reducing signal latency on your platform. That's the secret to 11.11 success.
To sum up, Singles' Day is all about:
Retailtainment – merging e-commerce with entertainment live-streaming which excites customers and translates into record sales.
The use of d-commerce (digital commerce) solutions – going beyond traditional webpage-based e-commerce makes sales more convenient and triggers impulse purchases. Examples include v-commerce (video commerce) and m-commerce (mobile commerce).
Special editions of products – during the most recent Singles' Day, 215 brands – including Lancôme, Givenchy and Shiseido – introduced over 240 special-edition products.
An opportunity for a new product launch – as margins are compressing and costs of ads and paid search are growing, brands are more eager to use special occasions such as Alibaba's Singles' Day for new product launches. On this day, the attention of customers spikes and the likelihood of them noticing a product launch is higher.
What does this mean for global shopping holidays like Black Friday? If we were to learn from Alibaba's retail success, we should focus on three strategies:
Integrating online and offline platforms
Nurturing a cross-channel communication and sales strategy
Turning shopping into an interactive, fun experience
Let Us Leave You With This Thought…
Even though Samuel P. Huntington's 'Clash of Civilizations' isn't exactly a fashionable read, we shouldn't underestimate the role of culture.
China's unique history, profoundly shaped by two millennia of Confucian philosophy and post-capitalist communism, are to be attributed to Singles' Day's record sales (not to mention, making Jack Ma's dream come true).
In Western culture, with its Greco-Roman foundations reshaped by Christianity, people still get that 'guilty feeling' whenever they spend too much. Confucianism offers a slightly different perspective.
Instead of feeling guilty, today's secular mood makes them feel a sense of duty. If you recognize customers emotions, you simply won't fail in retail.
James Christie and his famous auction house made the most of retailtainment long before others did, that's for sure. But math is crucial as well – and as can be seen from Single's Day, the profits increase if the game is open to everyone.
---

Examples Of successful 11.11 Campaigns
Liushen
A famous mosquito repellent brand in China decided to enter the market with a new product – shower gel. They decided to premiere their new line of products on Singles' Day 2018.
To spread the word, they invited a famous singer – Huahua – to become their brand ambassador and used the word "flower" (pronounced "hua" in Chinese) as their main campaign slogan. They organized the photoshoot in Mauritius and used the images as part of their Tmall 11.11 campaign.
Liushen also engaged a famous young writer, Zhang Haochen, who republished his famous book "The Only Distance Between the World and I is You" as "The Only Distance Between the World and I Is the Bath".
Overall, 150,000 shower gels were sold on Singles' Day.
La Mamma
Popular detergent brand La Mamma turned to a variety of TV and live-streaming tactics to spark curiosity among buyers.
They started off by inserting banners and having 'Time Travel Kitchen' and 'Crazy Closet' actors mention their brand name in the script.
Both shows attracted over 10 million television viewers.
Next, the brand focused on live-streaming campaigns, which started on October 20th. Prior to Singles' Day, the brand would offer its viewers Money Saving Bibles – guides for getting the best deals on 11.11.
Overall, the brand was promoted for 86.5 hours and attracted over 840,000 viewers and generated over 10 million comments. This had a positive impact on 11.11 sales, attracting over one million visitors.
Listerine
Popular mouthwash brand Listerine took an interesting approach towards boosting its 11.11 sales. Young Chinese experience a heavy workload, and they can only take part in 11.11 sales if they have a day off. Listerine spotted an opportunity and partnered up with Tmall to launch an AR and VR-based campaign aimed at young people commuting to work via metro.
Some slogans included:
"I haven't stopped working for over 12 hours, even the metro is my office now. To stay awake, and keep a fresh mouth, I use Listerine".
The campaign attracted a huge number of young consumers by creating a completely new shopping experience.
Xiaomi
Xiaomi launched its Singles' Day campaign on October 21st. Xu Mengtao, a famous freestyle skier, was one of the celebrities who endorsed the company in a Weibo post stating 'same price as 11.11'.
Within just the first hour and a half, they sold over 100,000 air purifiers. If all purifiers sold on Singles' Day were switched on for 60 minutes, it would provide fresh air to over 2 million people.
Estee Lauder
Estee Lauder announced Xiao Zhan (a famous Chinese singer and actor) as their brand ambassador for makeup and perfume. The campaign started on October 20th. Apart from Zhan, two other celebrities were invited, with the total number of followers exceeding 120 million.
It took ESTEE LAUDER only 25 minutes to reach 500 million sales. Their total Singles' Day sales amounted to 887 million, leaving L'Oreal, Lancome, and Shiseido in the dust.
---

Further Reading
Three Lessons Black Friday Marketers Should Learn From Alibaba's Singles Day
Alibaba's Singles Day is a massive success – its sales are higher than those of Black Friday and Cyber Monday combined. There are a few lessons which Black Friday Marketeers can learn from the Chinese shopping extravaganza.
Combining online and offline platforms: merging the best elements of both sales platforms – the convenience of online shopping with the ability to physically interact with the product
Applying the omnichannel communication and sales strategy: taking advantage of online platforms including Tmall and Alipay, brick-and-mortar stores and pop-up stores. Social media promotion and customer interaction constitute a key element of Alibaba's strategy.
Turning shopping into a fun and interactive experience: modern e-commerce shoppers are young and proficient in mobile tech. To attract consumers from this group, shopping must be turned into an entertaining social activity. This includes virtual fitting rooms and interactive makeup screens, all aimed at keeping consumers engaged.
35 Billion Euro Revenue On Singles' Day. How Alibaba Is Crushing e-commerce In China
Thanks to the success of Alibaba's Single's day, the Chinese retailer has become the precursor of the new trend called "Retailtainment." November 11 is the day where 500 million Chinese take part in a shopping extravaganza, searching for the best product deals from around the world.
On Single's Day Alibaba generated 1 billion in sales within 60 seconds from commencing the event. World famous celebrities including Taylor Swift and numerous Chinese influencers like Austin LI participated in the event, ensuring consumers had the time of their lives.
Live streaming is an inseparable element of Single's Day – consumers can watch live streams of influencers demonstrating products. They can interact with the influencers via chat, asking questions that get answered right away.
Content Emerges As New Driver Of Chinese e-commerce
Chinese consumers are hugely influenced by digital content produced by influencers and key opinion leaders who share their views on products and brands. Via WeChat articles, they direct consumers to shopping sites, social media live streams, photos and videos.
The more the consumer likes an influencer, the more impact the influencer has on their purchasing decisions. The magic lies in the shopping experience, as well as in storytelling. Creating content builds a background story for products that consumers want to be a part of.
Outpaced By Local Rivals, Amazon Struggles To Remain Relevant In China
Amazon is reducing its e-commerce presence in China, as its market share is barely noticeable among fierce competition, including Alibaba and JD. Leaving the Chinese market will let Amazon focus on its cross-border e-commerce business.
The American e-commerce company has been struggling on the Chinese market since entering it in August 2004, through the acquisition of an online book seller, Joyo. Amazon China's market share equals less than 1% of the total e-commerce market as of June 2018. Alibaba essentially 'owns' over 50% of the market, while JD.com, Pinduoduo, Suning and Tencent-backed VIP.com dominate the rest of the market.
How Technology Can Help Shape A More Inclusive Society
As we enter the third decade of the century, we're no longer simply surrounded by new technology. With the advancements in social media and new tech, we're all becoming a part of the scene ourselves. However, in a market increasingly dominated by global players like Alibaba, Amazon, Apple, and Google, is there room for leveraging technology for 'overall good'?

What are the global implications of a concentration of power in the tech world?

In a piece for Forbes, business software provider SAP chimes in on subjects like wealth distribution, fairness, and the role of innovation in the world.

Read more…
Alibaba's 11/11 Singles' Day: Here's Which Brands Profited The Most
China's Singles' Day is a sales spectacle unlike anything we've seen before. This advanced blend of brick-and-mortar and virtual commerce offers an incredible opportunity for global brands to thrive.

It has been reported that on Singles' Day 2019, 15 different companies made over 1 billion yuan ($143 million) in sales. These were: the Chinese brands Huawei and Xiaomi; U.S. brands Bose, Estée Lauder, Gap, Levi's, Nike, The North Face and Apple; and other international brands – Nestlé, H&M, Uniqlo, MUJI, L'Oréal and Philips.

What does this say about the trends we can expect to see in future editions of Alibaba's 11/11 holiday?
Forbes' reporter Sergei Klebnikov comments on the subject in his piece for Business Insider Singapore.
Will China's Singles' Day Expand Internationally?
The success of Alibaba's Singles' Day is obvious, with each edition beating the previous in gross sales. Given its fast growth, could Alibaba's 11/11 holiday also expand beyond China's borders and become a global phenomenon? The Financial Times reports that Jack Ma, the Founder of Alibaba, has huge ambitions – aiming to win 25% of all global e-commerce sales.
What might this allow us to predict about Singles' Day outside of its domestic market?
Is it possible that Single's Day will outpace the Western world's most important e-commerce holidays – Amazon Prime Day, Black Friday, and Cyber Monday?
Alibaba Founder Jack Ma Says You Don't Need To Know Much To Be Successful. But You Do Need This …
In an interview during the World Economic Forum in 2018, Jack Ma opened up to viewers about his formula for success. According to the self-made billionaire, what makes or breaks a business essentially comes down to two steps:
Hiring people who are smarter than ourselves
Focusing on getting employees to work effectively together
In a piece for INC.com, Justin Bariso discusses these areas in depth and takes a closer look at Jack Ma's viewpoint on what makes a good manager, how to provide team feedback, and how to approach each team members' strengths and weaknesses.
---


We hope you've enjoyed this edition of The Newscatcher.
The Newscatcher. Brought to you by Molecular.